Celebrating My New Brand – Work with Me as My Gift to You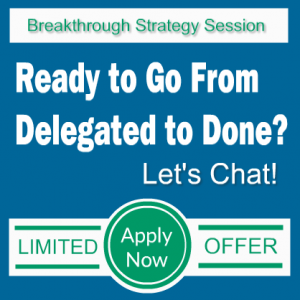 If you struggle with how to create powerful systems and automation in your business and/or how to find and keep the best team to run those systems and grow your business for you, then I have good news for you.
To celebrate the launch of Delegated to Done, I'm opening up just 10 spots to work with me — at no cost, my treat! — for 30 minutes.
It's my 30-minute "Delegated to Done" Breakthrough Strategy Session.
The only thing is, there are only 10 spots open, these are going to be snapped up fast. And to be considered you'll need to apply by Sunday Feb. 2nd.
In this "Delegated To Done" Breakthrough Strategy Session I'll walk you through:
* Clarifying your vision and goals for creating the ideal business in 2014
* Identifying the hidden obstacles or challenges slowing you down from having the perfect team and perfect automation to support reaching your business goals
* Creating a clear plan that describes the exact steps you need to take to get more done and have more time by having the perfect team and systems for this stage of your business
If you're ready to catapult your income without working more hours and create the perfect team then I urge you to apply for one of these 10 limited breakthrough sessions spots with me right now, before your chances disappear for good.
And everyone who submits a complete application for the session will get a copy of my new training, "21 Ways to Grow Your Business by Hiring Your Dream Team."
********************
HERE'S HOW TO APPLY
********************
Send me an email at Deanna @ Delegated to Done.com with the answer to these simple questions.
IMPORTANT: You must answer ALL the questions to be eligible for this gift breakthrough session and for the Free "21 Ways to Grow Your Business by Hiring Your Dream Team" training.
Any received with missing info will be deleted.
1. What is your name and tell me a little bit about your business, especially your team and systems?
2. When it comes to building the perfect team what are your biggest challenges?
3. On a scale of 1-10 (10 being highest), how important is it to you to get these solved…and why?
4. What is the #1 obstacle that's kept you from solving these challenges?
5. Where would you like your team and systems to be in 6 months? 12 Months?
6. What is your phone number and email address? (We'll contact you by date/month to let you know if you were accepted for one of these 10 limited spots).
Remember, to take advantage of this "Delegated to Done" Breakthrough Strategy Session opportunity, simply reply to this email with the questions above answered. We'll let you know if you get in on one of these gift breakthrough sessions!

To your fantastic success,
–Deanna

Deanna Maio
Systems & Implementation Strategist
P.S.
Remember, there are only 10 spots open and 
you must apply by Sunday Feb. 2nd
 to be considered. I really want to help you create the perfect team to suport your 2014 business goals so let's get your application in right now!P.S.S Did you miss the original note from yesterday with the big news? Check it out here on my blog at 
http://delegatedtodone.com/big-news-big-changes/